Farmers Tea is a calming tea highlighted for the Autumn season but enjoyable for just about anytime of year. It helps bring a sense of well-being.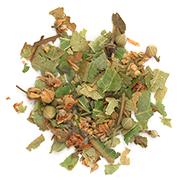 Linden Leaf
Tilia europaea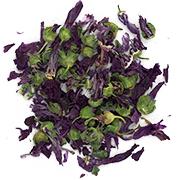 Mallow Flower
Malva sylvestris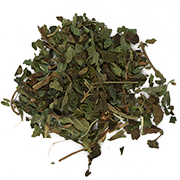 Lemon Balm
Melissa officinalis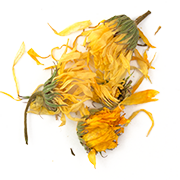 Calendula
Calendula officinalis
Enjoy this well-balance tea composition of Linden, Melissa, Calendula, Mallow, Applemint, and Cornflower.
Linden is commonly used for helping to reduce fevers. Melissa is used for its calming effect on the mind and body. Mallow or Malva is traditionally used to help relieve sore throats and coughs due to experiencing cold symptoms. Applemint is rather refreshing bringing out a crisp and balanced taste to the tea.
Add honey for an intensified and fuller taste.
Linden Flower - reducing fevers and inflammation, treating colds and stuffy nose, relieving coughs, ability to reduce stress, reliving stomach complaints, relieving gas and insomnia, may stimulate urination, treating headaches, and detoxifying.
Applemint - a mild version of mint with less menthol. The variety is most used for its culinary use and grown in southern and western Europe. Properties help colds, flus, and indigestion. Applemint is gentle enough for children.
Mallow - soothes mucus membranes and soar throats, benefits digestive system, assist in wound healing and counter inflammation, may stimulate urination and bowel movements, used to treat laryngitis and tonsillitis, and beneficial to dry coughs along with bronchitis and emphysema. May be of help to stomach irritation, irritable bowl and spleen complaints.
Melissa - adding in mental clarity and relaxation, reducing stress, reducing overactive thyroid activity, beneficial towards bronchial inflammation and symptoms, reducing fevers, regulating and enhancing mood, relieving PMS symptoms, aid against nausea, improve sleep, and alleviating gas.
Calendula - properties of; anti-inflammatory, stimulating the immune system, detoxifying, aiding regulation of menstruation, benefiting gastrointestinal disorders, anti aging, and helping to repair skin.
Cornflower - aids digestion, beneficial to urinary tract infections along with arthritis sufferers, relieves diarrhea, and detoxifying.
Net.: 1oz (30g)

Our Herbal and Fruit teas are grown on a certified organic farm in Austria. The harvest is carried out only by hand. Particular attention is paid to the harvesting time and keeping the herbs as whole as possible. Preserved only by air drying. Want to learn more?
See here.

Our natural therapies are meant for helping the patient. They do not eliminate, neither replace medical traditional cures. We are not responsible for a faulty or unsuccessful cure. Not evaluated by the FDA. If symptoms persist consult a physician.