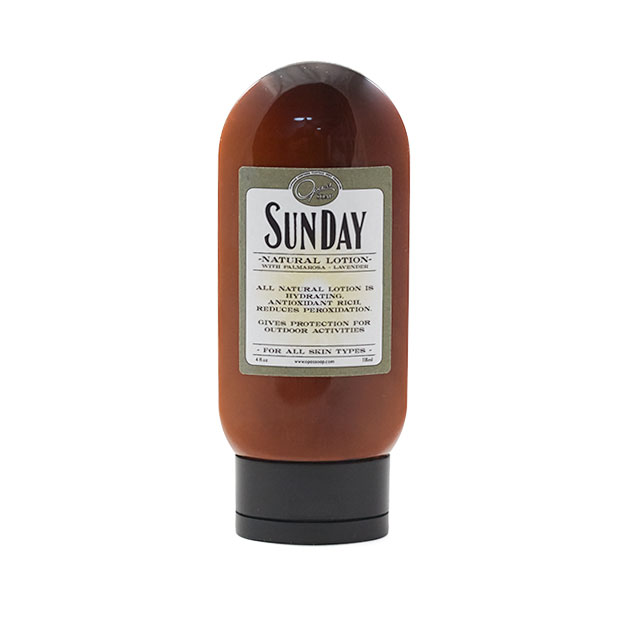 Sunday lotion is designed to stop peroxidation by feeding the skin.
Also, by adding Squalane, Myrrhe, and Red Raspberry Seed Oil helps rid free radicals and prevents skin damage caused by over-exposure to sun. Red Raspberry Seed Oil studies show protection against UV-A and UV-B equal to titanium with a SPF of 25-50. Sunday lotion is filled with antioxidants like White Tea and Green Tea which help keep our skin in the best shape by preventing and repairing damage. Antioxidants help slow the effects of free radicals. Aloe is added to help relieve irritation, soothe, moisturize skin, counter after sun effects, and help speed up healing. Ginko Biloba is added for its anti-inflammatory properties, its ability to repair skin, and increase collagen production.
Aromatic Scent:

earthy, herbal,sweet (Palmarosa Lavender)

Aromatic Scent:

sweet (Vanilla Coconut)

Aromatic Strength:

strong

Feel:

moisturizing, not greasy, absorbent, light

Benefits:

hydrating, moisturizing, restoring, reduce inflammation, rejuvenating, protecting

Shelflife:

To keep freshness please use within 6 month.

Size:

4fl.oz (180ml)
Protecting yourself against the sun can be quite challenging without using chemical sunscreens and sunblock.
Titanium dioxide, an ingredient in just about all sunscreens and sunblocks has evidence of being a potential carcinogen. There are also active ingredients such as avobenzone, benzophenone, ethylhexyl p-methoxycinnimate, 2-ethylhexyl salicylate, homosalate, octyl methoxycinnamate, oxybenzone (benzophenone-3) that are raising some questions. These ingredients are said to increase free-radicals in the body.
EWG has quoted a study conducted by CDC that 97% of Americans are contaminated with a sunscreen ingredient called oxybenzone. Oxybenzone has been linked to hormone disruptions, allergies, and cell damage. They also quoted a study revealed that mothers exposed to this ingredient during pregnancy were subject to have babies with low birth weight.
Oxybenzone is a chemical ingredient that helps other ingredients penetrate through the skin. EWG identified 600 sunscreens, 172 facial moisturizers, 111 lip balms, and 81 types of lipsticks sold in the United States that contain the ingredient oxybenzone. Estrogenic activity in sunscreens have been detected. A study conducted by Margaret Schlumpf at the Institute of Pharmacology and Toxicology, University of Zurich, Switzerland have found that many widely-used sunscreen chemicals have estrogenic activity and trigger developmental abnormalities in rats.
EWG's research has revealed that 84% of sunscreen products are harmful to consumers.
There are ways to increase your protection from bad sunburns and gear your body up to respond better to your prolonged activities in the sun. Eating a wide variety of antioxidants including berries, rich vegetable sources with all spectrums of colors, chlorella, wheatgrass, and spirulina. As well as hempseed, green tea, dark chocolate, white tea, watermelon, tomatoes, and fish oil. A variety of these foods are either high in antioxidants, carotenoids, lycopene, and omega 3 fatty acids.
The picture here is of our human test subject, he has volunteered to "test" our Sunday lotion and its effectiveness. The subject drove on a long distance trip, a total of three hours with the left arm exposed directly into the sun. A dot, the size slightly smaller than a dime would be rubbed into a specific area on the arm before the subject started the trip. After the three hour ride, the tester experienced heavy sunburn in all areas of the arm that was exposed to the sun but the area that was neatly covered with our Sunday lotion did not get damaged and retained the natural color of the skin.
Active ingredients in mainstream Sunscreens
Active Ingredient
UV blocked

Known for

EWG rating

Menthyl anthranilate
UV-A
Cancer
Organ system toxicity (non-reproductive)
Ecotoxicology
1

Trolamine salicylate

UV-B
Use restrictions
1
Dioxybenzone
UV-B, UV-A
Cancer
Allergies & immunotoxicity
Ecotoxicology
2

Avobenzone

UV-A
Cancer
Allergies & immunotoxicity
Use restrictions

2

Titanium dioxide
UV-B, UV-A
Cancer
Allergies & immunotoxicity
Organ system toxicity (non-reproductive)


1-3

Zinc oxide
UV-A, UV-B
Developmental & reproductive toxicity
Allergies & immunotoxicity
Persistence and bioaccumulation
Organ system toxicity (non-reproductive)
Ecotoxicology


2-3

Cinoxate
UV-B
Cancer
Organ system toxicity
Use restrictions

3

Octocrylene
UV-B
Use restrictions
Biochemical or cellular level changes
Persistence and bioaccumulation
Ecotoxicology



3

Octisalate
UV-B
Allergies & immunotoxicity
Ecotoxicology

3

Phenylbenzimidazole sulfonic acid
UV-B
Cancer
Use restrictions
Biochemical or cellular level changes
3
Sulisobenzone
UV-B, UV-A
Allergies & immunotoxicity
Irritation (skin, eyes, or lungs)
Endocrine disruption
Organ system toxicity (non-reproductive)


3

Homosalate
UV-B
Developmental & reproductive toxicity
Allergies & immunotoxicity
Biochemical or cellular level changes
Endocrine disruption
Persistence and bioaccumulation
Organ system toxicity (non-reproductive)
Ecotoxicology

4

Octyl methoxycinnamate
UV-B
Developmental & reproductive toxicity
Allergies & immunotoxicity
Biochemical or cellular level changes
Endocrine disruption
Persistence and bioaccumulation
Organ system toxicity (non-reproductive)
Ecotoxicology

6

Padimate O
UV-B
Cancer
Allergies & immunotoxicity
Biochemical or cellular level changes
Endocrine disruption
Ecotoxicology

6

Aminobenzoic acid
UV-B
Cancer
Allergies & immunotoxicity
Use restrictions
Biochemical or cellular level changes

7

Oxybenzone
UV-B, UV-A
Developmental & reproductive toxicity
Allergies & immunotoxicity
Biochemical or cellular level changes
Endocrine disruption
Persistence and bioaccumulation
Organ system toxicity (non-reproductive)
Ecotoxicology,


8
References:
http://www.ewg.org/sunscreen/
http://breakingnews.ewg.org/2011sunscreen
In Vitro and in Vivo Estrogenicity of UV Screens
https://www.ncbi.nlm.nih.gov/pubmed/11333184